Surveillances / Systematic Searches / Systematic Reviews


Surveillances are an advanced research and proprietary technology developed by MedBoard.


Surveillances automate data and information based on your query (keywords), providing extraordinary flexibility and customization based on your needs, and keeps continuously adding new matches without the need to search again and again in multiple websites or public databases.


Users can monitor in real-time, thousands of daily updates in many big MedBoard databases (e.g., manufacturers news, regulatory news, recalls, adverse events, clinical trials and many more) and millions of data points. Additionally, Smart Surveillances include features for screening and systematic review, audit trail compliant. Smart Surveillances can also be clustered to create 'Plans / Reports / Projects'.
Embedded Systematic Review process, mapping all the steps necessary for Screening, Eligibility and Appraisal-Assessment.
Automated PRISMA and Flowchart reporting 
Authorities, Regulations*, Technical Standards*, Researchers and Industry Stakeholders are requiring, including for PMS Plans, Vigilance, Intelligence, Research, and other key Reporting in the medical industry, all the following:
Requirement

MedBoard: How meets the Requirement

 

Systematic Process




MedBoard Surveillances are built within a structured and systematic process, using the same templates, verified sources and structured databases. Queries and keywords are embedded into this structured process.

Consistent

Queries and keywords in each Surveillance are continuously looking into the same sources and structured databases, providing consistency and standardization.

Continuous

Automatically collecting and delivering the information to the user every day.

Active

Proactive automatic searches every day, notifications and surveillance updates allow the users to be on top of updates and with a pro-active attitude.

Precise

Built-in with advanced search operators, Boolean Operators and robust structured databases, and powerful indexes.

Traceable, Systematic and Audit Trail Reviews

Embedded systematic review process integrated into clear and regulatory steps for review.

Always Up to Date, Ready for Reporting

MedBoard platform is continuously updated every day several times, close to real-time. Our search engine, index and crawlers are continuously collecting and organizing information and data.

Easy to export data.

* EU MDR/IVDR, ISO 14971:2019 and many more regulatory requirements.

Achieving all the above with manual processes is an impossible and exhausting resource task. MedBoard offers you this all together, integrated and automated:
Search   >   Collection   >   Text/data retrieval   >   Screening   >   Systematic Review   >   Reporting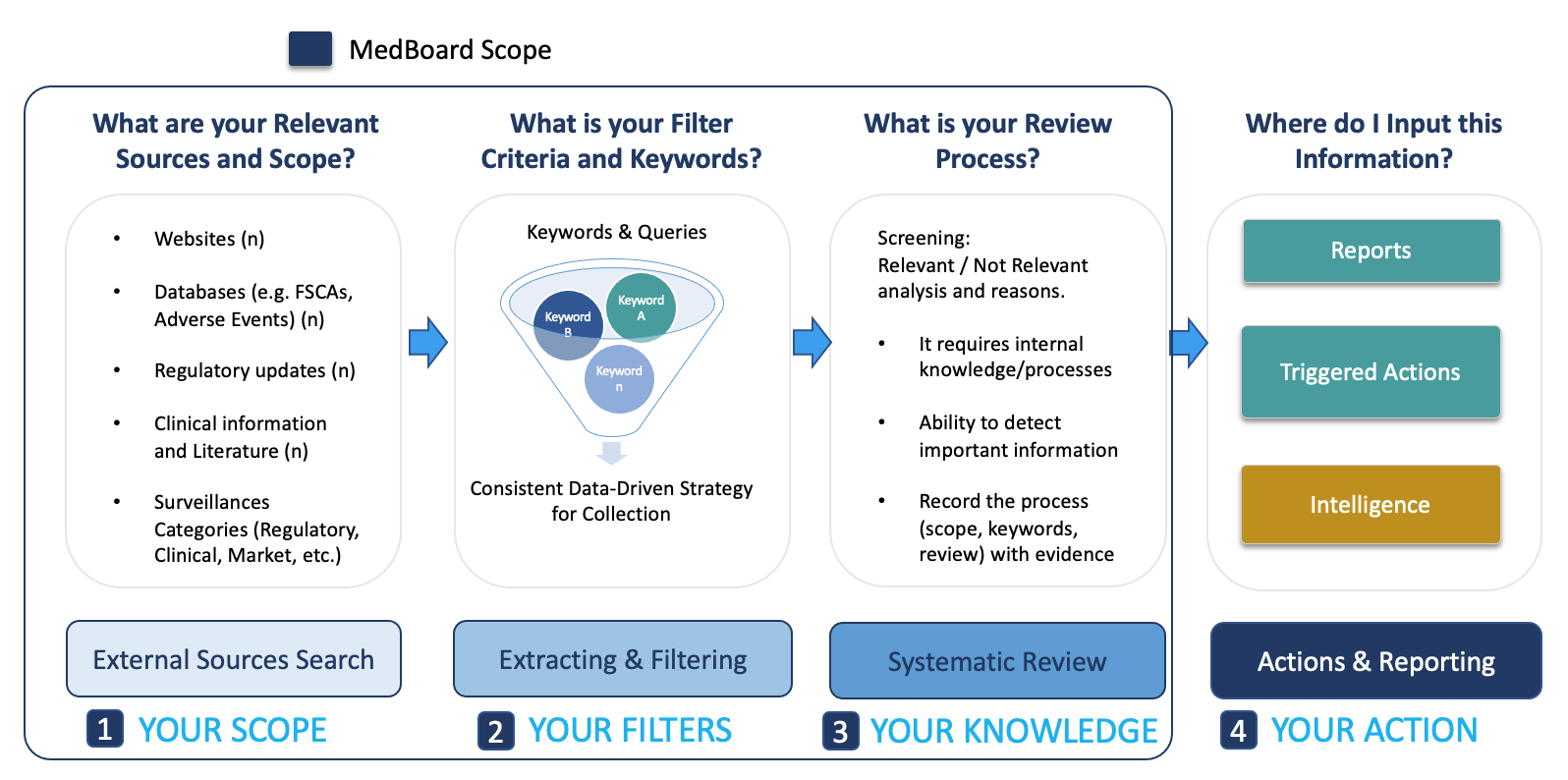 Are you still doing this manually? if YES, contact us, MedBoard can help you!